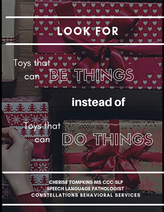 Its that time of year again! Well meaning relatives ask " What does Jonny want for the holidays?" I don't know about you, but my son has 10,000 vehicles and he doesn't need anymore but I often find myself at a loss for toy recommendations.
At a recent conference, I had the opportunity to listen to speakers from
Northwestern Early Intervention Research
group speak about how to empower PARENTS...